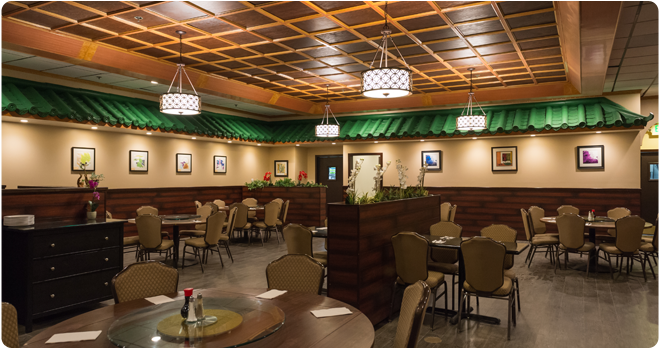 Bringing flavorful, fiery, sweet and savory Chinese cuisine to the historic city of Livermore, California, our Chinese restaurant has been established since February of 1991. We have over 35 years of experience in Cantonese and Szechuan style cuisine. Family owned and operated, we boast a large dining area of over 4,000 square feet to accommodate private banquets, as well as family dining. We offer a menu complete with mouthwatering choices that are satisfying, complex and created with skill.
What is it to have Yin and Yang? At Canton Village, our menu has a balance of both fresh and light, and bold and spicy. Enjoy your meal with a pairing from our wide selection of tea, beer or wine.
Cantonese cuisine is the culinary style of Guangdong Province, the most popular style of Chinese cuisine outside of China due to early emigrants from Guangdong. Cantonese cuisine is marked by lightly enhancing the freshest ingredients with the use of spring onions, soy sauce, rice wine, sugar, salt, scallion oil and sesame oil. Some of the most popular Cantonese dishes include fresh seafood or noodles. Try one of our Cantonese house specialties: Honey Walnut Prawns or Tomato Beef Chow Mein.
Szechuan cuisine is the style of cooking that originated from the Sichuan province of southwestern China. Szechuan cuisine boasts flavors that are bold and complex, coming from the liberal use of garlic, chili peppers, and the unique Sichuan pepper. Our Szechuan dishes will leave you blushing from the flavor packed punch of chili paste, peppercorn and red chili oil. Use of the unique Sichuan pepper, a spice, causes the mouth-numbing sensation we call "ma la." Try one of our Szechuan house specialties, like Sizzling Pepper Beef; it's flavorful, spicy and memorable.
We have been featured on the Bay Area Backroads television series as a local town favorite. With our prompt, friendly service, you can have a healthy meal during your lunch or evening break. Our restaurant is located in the Brickyard Shopping Center next to Trader Joe's. We also provide local delivery service.
Working Hours
Mon - Thurs: 11:00 am - 09:00 pm
Fri - Sat: 11:00 am - 09:30 pm
Sunday: 11:00 am - 09:00 pm